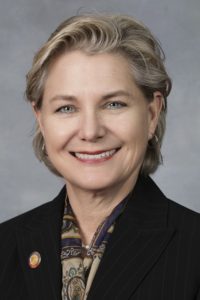 FAST FACTS

Name: Deb Butler
District: 18 (New Hanover)
In office since: 2017
Key Committees: Banking; Commerce; Finance; Judiciary 3; Transportation
Previous career: Attorney
FEATURED BILL: REMOVE BARRIERS/GAIN ACCESS TO ABORTION ACT
Abortion access is severely limited in North Carolina, with access only available in nine of 100 counties. People of color, young people, people with disabilities, low-income individuals, those who live in rural areas, and the undocumented are most likely to face barriers to access.
That's why Rep. Butler, along with her colleagues Reps. von Haefen, Fisher, and Alston, and Sens. Marcus, Murdock, and Chaudhuri introduced the Remove Barriers/Gain Access to Abortion Act in March.
The RBG Act, named in honor of the late Supreme Court Justice Ruth Bader Ginsburg, would address four anti-abortion policies currently in place in the state. It would repeal the forced counseling requirement and 72-hour waiting period before an abortion, expand who can perform abortions, repeal the ban on abortions provided via telemedicine, and remove the insurance coverage ban on abortions from state health plans.
Abortion care is health care, and with access in jeopardy at the national level, it is more important than ever to protect our rights at the state level.