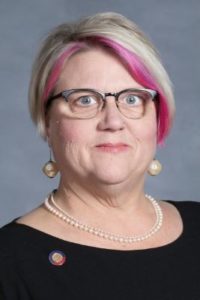 FAST FACTS

Name: Allison Dahle
District: 11 (Wake)
In office since: 2019
Key Committees: Alcoholic Beverage Control; Appropriations; Appropriations – General Govt.; Election Law & Campaign Finance Reform; Ethics; Local Govt. – Land Use, Planning & Development
Past career: Stage manager
FEATURED BILL: CANNABIS LEGALIZATION & REGULATION
Marijuana criminalization has had an extremely harmful and disparate impact on communities of color. Black individuals are more than three times as likely as white individuals to be arrested for cannabis possession, despite nearly identical use rates. 
That's why Rep. Dahle, along with her colleagues Reps. Autry, Harrison, and Hawkins introduced the Cannabis Legalization & Regulation bill this April.
The bill would legalize the use and possession of small amounts of marijuana for adults 21 years and older, as well as regulate the sale of marijuana and provide for the collection of state and local taxes.
The bill would also establish an Office of Social Equity, to help ensure that a legal and regulated cannabis industry encourages participation from and reinvestment in the communities most harmed by cannabis prohibition. It would be an important step in ending the disastrous War on Drugs.